Good morning. The message I am going to share today is somewhat philosophical, and just as philosophers like to ask questions rather than give answers (which they don't have), I'd like to start first by asking you - what is one question that won't go away?
Other than where is your boyfriend or girlfriend at Chinese New Year, or when are you having a baby.
I think there a few questions that everyone asks at some point in life. Yes - what shall e eat might be one of them. Another might be why there is evil and suffering. The question I want to touch on today is another fundamental question -
What is the meaning of life?
So where do we start looking for the answers? Because we live in the Internet era, one natural starting point is the all-knowing Google.
Some "answers" are pretty thrashy, like -
"Don't ask what the meaning of life is. You define it."
In other words, don't ask me. Go find out yourself.
Others sound confused, like these two.
"The meaning of life is to find your gift. The purpose of life is to give it away."
"The purpose of life is to find your gift. The meaning of life is to give it away."
Those sounds like a PSLE English question where you have to combine two sentences into one -
"The meaning and purpose of life is to find your gift and give it away".
Google some more, and there are more answers.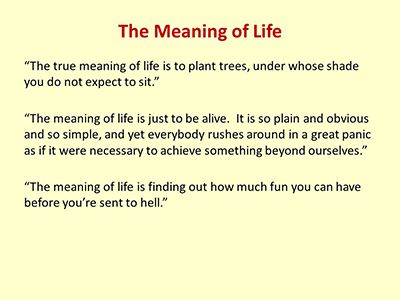 This one is deep.
In other words, our meaning in life is to leave a legacy for future generations. If you don't achieve anything else, at least plant a tree.
But that's seems to contradict the next answer which suggests that the meaning of life is to be content with what you have. Don't need to try too hard, and maybe don't bother about doing something great for future generations.
Then there is the You-Live-Only-Once perspective, which is why we now have a YOLO credit card. Eat. Drink. Play. Repeat. Because we only have one life and we're all going to die anyway. (May I clarify here that this message is not sponsored by UOB?)
Okay, so Google doesn't give that great answers. What does the Bible say?
The book of Ecclesiastes suggests three answers, which unfortunately also sound confused and conflicting. But that's the book I want to share from today, and these are the three answers -
"Meaningless! Meaningless! Everything is Meaningless!" (1:2)
"It is good and proper for a man to eat and drink, and to find satisfaction in his toilsome labour under the sun during the few days of life God has given him–for this is his lot. Moreover, when God gives any man wealth and possessions, and enables him to enjoy them, to accept his lot and be happy in his work–this is a gift of God. He seldom reflects on the days of his life, because God keeps him occupied with gladness of heart." (5 : 18 - 20)
"Remember your Creator in the days of your youth …" (12:1)
As Christians we know that the model answer must be "remember your Creator" meaning, remember God. But how do we reconcile the other answers in Ecclesiastes to this?
Before I go into that, let's ask an even more fundamental question. Why does the question matter? Why does the meaning of life matter? Why bother even finding out?
My answer to why the meaning of life matters, is because it does. Why do we breathe? As babies, we instinctively gasp for air, before we understand the reason why our lungs need air. The impulse to discover the meaning of life is the same. Everyone instinctively desires to know the answer that question, even though we might not know the exact reason why. Renowned psychologist Victor Frankl, who tried to explain why meaning is important to humans in psychological terms, said that -
"Life is never made unbearable by circumstances, but only by lack of meaning and purpose."
We need meaning and purpose in life. In difficult times especially, knowing meaning and purpose of some sort will help to pull us through.
This is consistent with the wisdom in the Bible which says in Ecclesiastes that God -
"has also set eternity in the hearts of men; yet they cannot fathom what God has done from beginning to end." (Ecclesiastes 3 : 9)
We are created with a consciousness that life transcends the physical world around us. Just as how we breathe in and out without being conscious of it, we intuitively sense that life is beyond the here-and-now. That is why we search for the meaning of life, for meaning beyond mere physical existence. However, because our minds are finite and clouded by sin, we struggle to see beyond the here-and-now. We long to find true meaning, but often we lose the way. That has very important implications not just for us, but also for the people around us - everyone is going to question the meaning of life at some time, but if we as believers do not do our part to help them find the truth in the Bible, they may lose their way.
Now let's turn back to the answers in Ecclesiastes. Ecclesiastes was written by King Solomon, the son of King David, who we know from the Bible was gifted with extraordinary wisdom. Solomon applied his wisdom to try and find the meaning of life.
Solomon tried various remedies - pleasure, wealth, work, power, influence, wisdom and knowledge, family and friends, living morally, contentment, and finally, a relationship with God - to resolve his sense of meaninglessness.
The first set of remedies are what I call self-indulgence, basically doing whatever made him feel good for the moment, whether it was eating, entertainment, accumulating more wealth and property, or working towards the next promotion.
I undertook great projects : I built houses for myself and planted vineyards. I made gardens and parks and planted all kinds of fruit trees in them. I made reservoirs to water groves of flourishing trees. I bought male and female slaves and had other slaves who were born in my house. I also owned more herds and flocks than anyone in Jerusalem before me. I amassed silver and gold for myself, and the treasure of kings and provinces. I acquired men and women singers, and a harem as well – the delights of the heart of man. I became greater by far than anyone in Jerusalem before me. …. I denied myself nothing my eyes desired; I refused my heart no pleasure. (Ecclesiastes 2 : 4 – 10)
"I denied myself nothing my heart desired, I refused my heart no pleasure". But what happens after you have tasted every exotic dish and wine, when you have watched every possible movie, when you have holidayed in every major destination, when you have finally got the new car or house or promotion that you wanted?
You will find that you've reached the end of amusement. That there is nothing new under the sun.
"Everything is meaningless. … What has been will be again, what has been done will be done again; there is nothing new under the sun." (Ecc 1 : 2, 9)
"… a man may do his work with wisdom, knowledge and skill, and then he must leave all he owns to someone who has not worked for it. This too is meaningless and a great misfortune." (Ecc 2 : 21)
In business or at work, you may find all the hard work you've put in isn't going to last after you're gone. The person who succeeds you might be someone less capable, or who has different ideas, or simply interested in following through on what you did.
"… one official is eyed by a higher one, and over them both are others higher still. The increase from the land is taken by all; the king himself profits from the fields. Whoever loves money never has money enough; whoever loves wealth is never satisfied with his income." (Ecc 5 : 8 – 10)
Maybe you've finally got the promotion you've been working for. Then, you find that the colleague below you is eyeing your job. Worse, you find that the boss above you is insecure and watching you like a hawk, because he is worried that you might take over him. And the person who reaps all the benefits from everyone working overtime and trying to outdo each other, is the boss who owns the business.
And so Solomon concludes that self-indulgence - going after all the things which make us feel good temporarily, is ultimately meaningless. A chasing after the wind.
Nick Vujicic, a Christian motivational speaker who was born without arms and legs, echoes this when he said -
"Life isn't about having, it's about being. You could surround yourself with all that money can buy, and you'd still be as miserable as a human can be. I know people with perfect bodies who don't have half the happiness I've found. On my journeys I've seen more joy in the slums of Mumbai and the orphanages of Africa than in wealthy gated communities and on sprawling estates worth millions. Why is that? You'll find contentment when your talents and passion are completely engaged, in full force. Recognise instant self-gratification for what it is. Resist the temptation to grab for material objects like the perfect house, the coolest clothes or the hottest car. The if I just had X, I would be happy syndrome is a mass delusion. When you look for happiness in mere objects, they are never enough. Look around. Look within."
So if meaning in life can't be found in self-indulgence, can it be found in living simply, being content with what we have, and being and doing good, without reference to God? If you read what I just quoted from Nick Vujicic on its own, that seems to be what he is saying. If you look at this advice that I quoted just now from the Internet, that also seems to be the case.
"The true meaning of life is to plant trees, under whose shade you do not expect to sit."
"The meaning of life is just to be alive. It is so plain and obvious and so simple, and yet everybody rushes around in a great panic as if it were necessary to achieve something beyond ourselves."
Without any reference to God here, the advice is to be content with what we have and to do good. Can meaning in life be found in that?
If you had asked me this question twenty years ago, I would have told you "of course not". I've been going to church since I was about six. Having grown up in church, it is unthinkable that anyone could even suggest that a life without God could be meaningful.
I'm going to say something radical, as far as the church is concerned. I believe that the answer is in fact "yes" - that even without believing in God, it is possible a person to find meaning in this lifetime by being content with what he has, and doing good.
This is possible not because God doesn't matter, or because God doesn't exist, but because of the grace of God. Just as God, in His grace, causes the sun to rise and the rain to fall on both believers and non-believers, He enables people to find meaning and joy in the simple things in life - in family and friends, in earning an honest living, and in food that they eat - and by doing good.
Some of us might have friends who lead what I call a "fairy tale" life. They find their sweetheart at 18 years old, get married at 25, have 4 kids by 35, and grow old together holding hands and watching the sunset. They might not be particularly rich, but they're happy living in the HDB flat they moved into when they first got married and taking the MRT to work. Their kids are well behaved and are Government scholars. And, they don't go to church.
"It is good and proper for a man to eat and drink, and to find satisfaction in his toilsome labour under the sun during the few days of life God has given him – for this is his lot. Moreover, when God gives any man wealth and possessions, and enables him to enjoy them, to accept his lot and be happy in his work – this is a gift of God." (Ecc 5 : 18 - 19)
"I know that there is nothing better for men than to be happy and do good while they live. That everyone may eat and drink, and find satisfaction in all his toil – this is the gift of God." (Ecc 3:12)
I think one reason why non-believers might not find the church very attractive, is because they don't see enough Christians leading a life of contentment and doing good. Instead, they see Christians chasing meaninglessly after wealth and possessions, overworking themselves to get a promotion, and even behaving selfishly and unethically to get what they want. They look at us, and can't tell the difference between a person who goes to church and a person who does not. Then, they look at the non-Christians around them, who lead simple and contented lives, who are ethical at work and in sincere their dealings with people, and who give their money and time to charitable causes and ask themselves – if these people can lead good lives without going to church, why should I?
I have to confess that personally, I have found it easier to form closer friendships with people outside of church than with Christians, particularly in the workplace. While other Christians and I are supposed to share the same worldview, what I appreciate and enjoy about the company of non-Christians is the sincerity, and the honesty and integrity and diligence at work, that you don't always find in Christians.
On this point I want to touch on a recent confrontation between FCBC and the Humanist Society of Singapore. FCBC was going to preach a series of messages on evolution and the Christian worldview in April this year, and the Humanist Society responded by writing an open letter to challenge the church to debate these issues their secular experts. I have not followed up on what the outcome of that is. What I can say is if this happened 20 years ago, I would have thought of these people as just rude and godless in daring to challenge the church and the truth of the Bible in this way.
Is that really the case? Well, it is true that the Humanist Society, and people who identify themselves as "Secular Humanists", reject that God exists. They believe that science and human reason alone, and not a religious book or authority, should guide their lives.
I don't agree entirely with Secular Humanism. But there is one thing I would respect – if a person has carefully considered religion and concluded that he is not prepared to accept the existence of God at this time in his life, and then goes on to lead a highly ethical, moral and principled life based on human knowledge and reason, he may be a better person that the average church go-er. He is probably an even better person than I am.
Christians may think that we are close to God because we believe in Jesus and regularly attend church. But we ignore all the unGodly behaviour that we engage in, whether it is our materialism or unethical conduct. A principled Secular Humanist, on the other hand may be leading a highly moral life that would be pleasing to God, with his lack of belief in God being all that separates him from God.
In the Bible we see many examples of righteous and moral people who believed in God after a supernatural revelation from Him. This includes the apostle Paul, the Ethiopian who the apostle Philip met on the road outside Jerusalem, Cornelius the Roman centurion who the apostle Peter visited, and the people of Athens who were worshipping "an unknown God". When Paul taught the Athenians who this "unknown God" that they were looking for was, many of them believed in Jesus.
Church, let us be careful not to become arrogant and complacent because we think we know God, or dismissive of those outside the church. There are people outside the church who may be even closer to faith, and all it takes is for God to reveal Himself to them at an appropriate time. On the other hand, people who have been attending church their whole lives may have deep issues with materialism or jealously or greed that will take a lot longer for God to deal with.
So is goodness and contentment without God enough for life to be meaningful? In this lifetime I think possibly yes for some people, but a life without God does not answer all the questions.
Let's read Ecclesiastes 5 again, this time up to verse 20.
"It is good and proper for a man to eat and drink, and to find satisfaction in his toilsome labour under the sun during the few days of life God has given him–for this is his lot. Moreover, when God gives any man wealth and possessions, and enables him to enjoy them, to accept his lot and be happy in his work–this is a gift of God. He seldom reflects on the days of his life, because God keeps him occupied with gladness of heart."
That verse says that when things are going well or at least going okay, being content with what we have is sufficient because it distracts us from reflecting on the deeper questions of life. However -
"The race is not to the swift or the battle to the strong, nor does food come to the wise or wealth to the brilliant or favor to the learned; but time and chance happen to them all.
Moreover, no one knows when their hour will come:
As fish are caught in a cruel net, or birds are taken in a snare, so people are trapped by evil times that fall unexpectedly upon them." (Ecc 9 : 11 - 12)
We can try to lead as quiet a life of contentment as humanly possible, but sometimes things don't fall in place.
"All share a common destiny — the righteous and the wicked, the good and the bad, the clean and the unclean … as it is with the good, so with the sinful; … This is the evil in everything that happens under the sun: The same destiny overtakes all. The hearts of people, moreover, are full of evil and there is madness in their hearts while they live, and afterward they join the dead."
We can try and lead a moral and ethical life, but not everyone around us will be moral or ethical, and we might be harmed by their actions. Also, at the end of the day, if everyone just dies whether they are moral or immoral, why does being moral or ethical matter?
"Everyone comes naked from their mother's womb, and as everyone comes, so they depart. They take nothing from their toil that they can carry in their hands.
As everyone comes, so they depart, and what do they gain, since they toil for the wind?" (Ecc 5 : 15 - 17)
If everyone is going to die, why does being moral or ethical, living responsibly or recklessly, working hard or not, matter?
And on this note I want to revisit Secular Humanism again. Some people reject God because they look at evil that has been done in the name of religion. The church, to its shame, has committed evil such as justifying slavery using the Bible. However, to reject God because the church has misinterpreted the Bible, is a bit like saying -
"because someone has misread the map before and led us in the wrong way, I'm going to throw the map away and find my way there without a map".
"Can you tell me where is the 'there' you are trying to find?"
"There is 'there'' lah. I can't point it to you on the map because I don't have a map anymore. But it's just roughly around there, where everyone will be more moral and ethical. We don't need a map. We can just make it up as we go along."
Is it okay to make things up as we go along? I struggle with that when it comes to ethics and morality because without a point of reference, which to me means the standards established by God in the Bible, whatever is ethical or moral is relative.
In Singapore politics we have this coined this hilarious expression - "ownself check ownself". It is our way of saying that the Parliament must be made up of more than one political party because you cannot trust a one-party Government to "ownself check ownself".
However, in matters of ethics and morality, people are prepared to say that I can "ownself check ownself". Yes I might listen to what you have to say about abortion, drugs, prostitution, and so on, but I reserve the right to "ownself check ownself", and decide what is ethical and moral for myself.
Taken to its extreme, if enough people personally decide – wrongly – that it is ethically and morally acceptable to kill over entire groups of people the way the Nazis killed the Jews, the gypsies and the homosexuals, or that is ethically and morally acceptable to kill and jail entire families and villages in order to achieve a Communist ideal, the world will go mad. That is why Solomon concluded -
"The hearts of people, moreover, are full of evil and there is madness in their hearts while they live, and afterward they join the dead."
On the other hand, while certain churches at one time misinterpreted the Bible and used it to justify slavery, it was the Christian faith of William Wilberforce that motivated him to campaign against slavery. This resulted in the British Parliament passing a law to abolish slavery in the British empire in 1833, and the eventual abolition of this practice throughout the world.
Let's turn to the final conclusion in Ecclesiastes about what meaning in life might be about – a relationship with God. In the final two chapters of Ecclesiastes, after examining self-indulgence and a life of goodness and contentment, Solomon concludes that a relationship with God is necessary for life to be meaningful.
"You who are young, be happy while you are young,
and let your heart give you joy in the days of your youth.
Follow the ways of your heart
and whatever your eyes see,
but know that for all these things
God will bring you into judgment.
So then, banish anxiety from your heart
and cast off the troubles of your body,
for youth and vigor are meaningless." (Ecc 11 : 1 – 10)
Because we only live once, we cannot just do whatever we like and pretend there is no ultimate reality. God will judge whatever we do, whether it is good or evil, meaningful or useless.
"Remember your Creator in the days of your youth,
before the days of trouble come
and the years approach when you will say,
'I find no pleasure in them' …
Remember Him — before the silver cord is severed,
and the golden bowl is broken;
before the pitcher is shattered at the spring,
and the wheel broken at the well,
and the dust returns to the ground it came from,
and the spirit returns to God who gave it." (Ecc 12 : 1)
Because we only live once, it makes sense to cherish and value the most important relationship that we can have next to our relationship with our family, before it is too late.
What do all these mean for us? Let me try and summarise whatever I've said today into something we can bring home and apply to our lives –
First – questions about the meaning of life will not go away. We will ask them. Our friends will ask them. But it is easy to get distracted by the things around us, and lose our way as we try and find the answer. God has called us to be the salt and light of the world. It is our duty to set an example for both believers and non-believers, of what it means to lead a meaningful life. How do we do this?
1. Remember that we are not called to lead a meaningless life of self-indulgence.
When a Christian If we remain as materialistic, as egoistical, as selfish and as unethical as he was before he started going to church, people outside of church will start questioning if becoming a Christian has made a difference to his life.
What causes fights and quarrels among you? Don't they come from your desires that battle within you? You want something but don't get it. You kill and covet, but you cannot have what you want. You quarrel and fight. You do not have, because you do not ask God. When you ask, you do not receive, because you ask with wrong motives, that you may spend what you get on your pleasures." (James 4 : 1 – 3)
2. We are called to lead a meaningful life of Godliness and contentment.
There are people "who think that godliness is a means to financial gain. But godliness with contentment is great gain. For we brought nothing into the world, and we can take nothing out of it. But if we have food and clothing, we will be content with that. People who want to get rich fall into temptation and a trap and into many foolish and harmful desires that plunge men into ruin and destruction." (1 Timothy 6 : 6 - 9)
In contrast to the materialism and selfishness in the world, Christians are called to be content and to do good works. But let's not be arrogant and think that only Christians can lead a life contentment and do good. There are a lot of people outside of the church who may not believe in God, but who lead meaningful lives because they are better than us at living humbly and morally.
"… I have learned to be content whatever the circumstances. I know what it is to be in need, and I know what it is to have plenty. I have learned the secret of being content in any and every situation, whether well fed or hungry, whether living in plenty or in want. I can do everything through him who gives me strength." (Philippians 4 : 11 - 13)
The good news for Christians is that contentment comes as an overflow from our relationship with God. As we grow in our realization that God is able to provide for our every need, we will learn how to be content in every situation, and we will learn how to be generous with our money and in our good deeds in every situation.
3. Finally, we are called to discover ultimate meaning in a relationship with God.
One of my favourite movies is Jerry Mcguire, and one of the famous romantic lines from the movie was "you complete me". It's a line which the male lead says to his love interest, to tell her that he will only be complete as a person if they are in a relationship together.
Our longing to discover the meaning of life is like that – it's a desire to be complete. And the Bible tells us that it is only in a relationship with God that we will be complete, because that is how we are designed.
"I will walk among you and be your God, and you will be my people." (Leviticus 26 : 12)
"… I will make a new covenant … I will be their God, and they will be my people. No longer will a man teach his neighbour, or a man his brother, saying, 'Know the Lord,' because they will all know me, from the least of them to the greatest. For I will forgive their wickedness and will remember their sins no more." (Hebrews 8 : 8 - 12)
In the Old Testament and in the New, God is consistently calling people to enter into a relationship with Him. This is the relationship that ultimately satisfies and answers our question of the meaning of life. Everything else, including finding contentment in the simple things and doing good without a relationship with God, is a poorer substitute. The disappointments and suffering in life, the evil that we see around us, and death, are reminders that we need more than what we have right now or what can accomplish by our own effort, to make life ultimately meaningful. We need God.