Good afternoon. Thank you for coming.
Just as a show of hands - how many of you have attended Alpha at least once before, whether here in HarbourFront or somewhere else?
What is Alpha about? As its strapline - Ask Anything - suggests, it is a time when you can ask anything about Christianity. I would like to call it -
Questions you've always had for Christians but which might be too rude to ask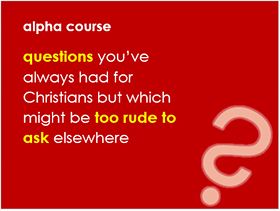 My wife and I have been attending church from a young age, so we can make bad jokes about Christians. One of the things we would joke about is how Christians must be the only people outside of school and maybe Alcoholics Anonymous to sit in circles and hold hands. Have you ever wondered why Christians engage in this sort of unusual behaviour?
Alpha is a time for all of us here, whether we go to church or not, to find out more about Christianity. What happens every week? Every session has food and coffee and a video of about 30 mins in which Nicky Gumbel, a pastor, speaks about a topic on Christianity. After that, there will be breakout sessions for about 15 to 20 mins for us to discuss the video in small groups. And ask rude questions.
This is our guarantee : There are no stupid questions. Only stupid people like me who can't answer your questions. Today - the first week - there will be only a video, but not any breakout discussion.
But before we start the video, I want to get a little serious and philosophical. How many of you have heard the criticism that "Christianity is on the wrong side of history"? That means, Christianity is outdated - at best boring or irrelevant, and at worst untrue? Not that many I see - maybe you've not been hanging out with as difficult friends as I do.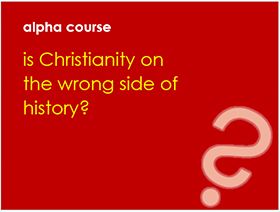 Let's keep this question at the back of your mind - I'm going to revisit it after the video.
[ Video ]
That's the end of the video and I hope you enjoyed it.
Nicky Gumbel made two claims about Christianity in that video. The first is that it is emotionally satisfying. For those of us in search of meaning - who find that there are times when we feel empty despite a full day of work, the company of good friends and other great relationships - he says that satisfaction may be found in God.
The other is that it is intellectually satisfying, because it is true. And on this point Nicky Gumbel quoted C S Lewis, who said that Christianity's claims are so radical that it must either be true, or a lie. There is no in-between. It is possible for us to find emotional satisfaction - at least temporarily - but feel intellectually unfulfilled. One example could be an extra-marital relationship - a couple in such a relationship might find emotional satisfaction in each other for a while but because it is built on a lie, there is limited intellectual satisfaction.
Which brings me back to the question "is Christianity is on the wrong side of history?". While I don't have the answer to this now, I do have something for us to think about. A statement like this assumes that there is a "right side" to history. In fact, any statement which judges something to be wrong, assumes that it can judge what is right. But what is "right"? Is it wherever the flow of history takes us? If so, then at the height of Nazi Germany's power during the Second World War, it would have been right to exterminate ethnic minorities, and the old, weak and handicapped.
If that doesn't sound right, then how about the will of the majority, expressed through the vote or otherwise? But we've seen how the majority can act oppressively towards for example a minority ethnic group, and we think that's wrong.
So what is "right" has to be determined by an authority higher than the flow of history, or collective human opinion. And here I would suggest that maybe religion - Christianity - has something to teach us about what is right and true. That intellectual satisfaction may be found in Christianity. Ok, so we've reached the end but before you go, I have two favours to ask of you:
1. We're handing out slips of paper now, and I would like you to write any question you might have on Christianity on it. There's no need to identify yourself, or where you work. This is your chance to ask anything - we'll collect your questions as you leave and match them against the topics for the next few weeks, so that you get some answers. But if its not covered by any of the topics, we'll discuss with the organising committee how to respond to them.
2. We need to plan for food and writing materials every week. So it would really help if you could let us know if you're coming next few weeks by registering your name at the back. We would really like it if you could register your interest by today but if you, or your friends or colleagues, can only confirm this later, you can contact us through the number or e-mail projected on the screen.