Good morning.
That's a picture of the Creation of Adam, a famous painting on the Sistine Chapel in the Vatican. It only shows Adam though, and it missing the other half which is God.
We live in an increasingly "secular" world in which fewer and fewer people believe in God, and more and more people deny the existence of God. A consequence of this is a world in which morals become relative - in which people decide what is right or wrong based on how they feel, instead of being guided by absolute truths that are unchanging.
This bothers me a lot. It bothers me not only because I am Christian, but because I am uncertain if this will turn out for the good of society in the long run.
Let's look at the issue of abortion for example. Among all the major religions in Singapore, I do not believe any would encourage abortion. Different religions may different views on when exactly a baby in the womb has attained the status of "life". Religions may accept a law permitting abortion for limited practical or medical reasons. But I doubt you would ever find a religion that goes so far as to say that abortion at any time should be allowed because the baby does not have the status of life.
But that is what secularism would say. Personal happiness - the happiness of the mother or of the parents - is paramount. So let the mother or parents decide what they want to do – if they want to abort a baby, at whatever stage the pregnancy may be. At an advanced stage of pregnancy a premature baby is capable of surviving, at least for a short while, outside of a mother's womb without medical support. However, the law says that a baby born alive, even prematurely, is a human person and allowing the baby to die by denying medical support would be murder. So what abortion clinics do? When the mother has reached an advanced stage of pregnancy, they inject medication to stop the heart of the baby – in other words they cause the baby to have a heart attack – so that it will die before it is removed from the mother's womb.
Now I'm not saying that all secularists will agree that abortion should be allowed at any time. Even Singapore as a secular country draws limits on when an abortion may be carried out. However, the fact remains that secularism can support a very permissive view of abortion that no religion will find morally acceptable.
Which makes me question – what else might be morally acceptable to secularism? I worry that there might come a time when religion is something you can talk about only privately, in your own home or in church. I worry that there might come a time when the church has lost its voice – a right to state its views in the public square – and there is no one around to object to a serious moral wrong – like the Nazi genocide of Jews.
Which brings me to the theme of today's message - how should the church respond to an increasingly secular world that is hostile to faith? Where is the place of God in an increasingly godless world?
To find some answers to these question, I decided to look at the most "godless" book in the Bible – Esther. I call Esther a "godless book" because it is the only book in the Bible where the word "God" does not appear even once. There is only a hint of it in a reference to fasting, but other common religious terms like "pray" or "worship" also do not appear.
The three lessons that I took away from Esther are these : Perspective, Engagement and Completeness in Christ. But before I go into these, let's open in prayer.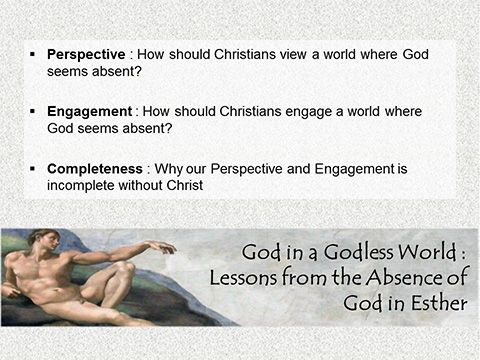 Overview
The story of Esther begins with King Xerxes of Persia having a wild party, getting wasted, and ordering his queen – Vashti – to appear before his guests to entertain them. However, Vashti was either in a bad mood or thought the King's request to be too undignified, and refused. This humiliated Xerxes, and in a fit of anger, he removed her as queen.
It didn't take long for Xerxes to feel lonely again. So he had all the pretty women in his kingdom rounded up and taken to his harem. One of these women was a lady called Esther, and Xerxes was so smitten by her that he made her the new queen.
Esther was a Jew, and her cousin was a man called Mordecai. Mordecai advised Esther keep the fact that she was a Jew secret, which Esther did.
Mordecai also uncovered a plot by two palace guards to assassinate the king. He informed Esther, who told other palace officers. The palace guards were arrested and the king was saved.
However, Xerxes was not made aware of this incident and did not reward Mordecai. He promoted another man – Haman – to become his chief advisor and right-hand instead.
Now Haman was a very arrogant and insecure man. He demanded that everyone bow or give him honour whenever he passed by. Mordecai refused to do so, which infuriated him. So Haman came up with a plan to take revenge on Mordecai – he lied and told Xerxes that the Jews were a rebellious group of people in his kingdom who refused to submit to his authority, and asked for permission to destroy them. Xerxes was deceived, and passed a law authorizing the Jews to be attacked and destroyed on a certain day.
The Jews who heard it were of course afraid, and Mordecai exchanged messages with Esther (through her servants, because he could not meet the queen face-to-face) to ask if she could help. Esther's reply is a key part of the story which Christians praise as an example of her selfless courage.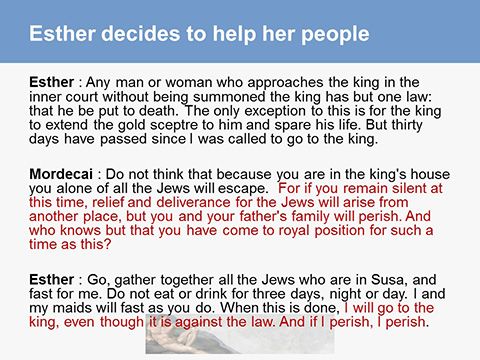 Esther goes up to Xerxes uninvited, but he pardons her intrusion and accepts her invitation to have dinner with him and Haman. This of course gives a huge ego boost to Haman, who thinks he is the only man important enough other than the Xerxes to get invited to dinner with the Queen. Haman is so happy that he builds a gallows in his home, where he plans to hang Mordecai.
The tide of events turn against Haman from here.
The night before the dinner, Xerxes has insomnia. Miraculously, instead of pouring himself another drink, Xerxes decides to do some work instead. He asks to review some of the records of his reign and the account of how Mordecai had saved him from a plot to kill him, is read. To Haman's grief, Xerxes rewards Mordecai for this.
At the dinner, Esther the drama queen that she is begs Xerxes for his life. She tells Xerxes that if it was simply a matter of her people and her being enslaved she would not bother him, but that she had to beg for her life because someone is plotting to kill them. She discloses that this evil man is Haman. Xerxes is enraged and, after a bit more drama, Haman is hung on the very gallows that he built for Mordecai. Because Xerxes cannot revoke the law authorizing the Jews to be killed, he issues another law authorizing the Jews to defend themselves. The Jews are saved, and this dramatic event is to this day celebrated as the festival of Purim in Israel.
#1 PERSPECTIVE : HOW SHOULD WE LOOK AT A WORLD WHERE GOD SEEMS ABSENT?
The word "God" does not appear in the book of Esther. Unlike other Old Testament books, Esther does not contain any prophets that go around teaching about God or telling people what God has planned. Nothing in Esther is attributed to God.
In the eyes of a non-Christian, Esther could be just another exciting political drama in which a group of people got lucky and avoided being killed.
Yet Esther is included as one of the books in the Bible. I think there is tremendous encouragement to drawn from that.
Because all of us encounter moments in our life when we cannot sense the presence of God. Because all of us will encounter moments in life when we walk into church on Sunday feeling lousy, and walk out after service feeling exactly the same way. Because all of us will encounter moments in our life when things have turned out so badly, that we almost lose all hope.
Esther reminds us that you are not the person in the world to feel that way. Think of what it must have felt like to be a Jew in Esther's time - to hear the king's pass a law that allows everyone, one month from now, to kill you, your family and to take property. And then to go through a long period of silence when there are no prophets who go around assuring you of God's deliverance.
Esther reminds us in moments of disappointment, pain and tragedy, when God seems absent, God has not abandoned us. God is there. God is at work. God is positioning seemingly random events around us, so that there will be a good outcome.
When Esther was picked as queen out of hundreds of many other beautiful women – that was not random. When Esther approached the King without permission and was allowed to see him instead of being punished for disrespect – that was not random. When King Xerxes could not sleep and read through the records which reminded him of how Mordecai saved his life – that was not random.
To a non-Christian, events around us appear to be random. Esther encourages us to see random events through the eyes of God, to not lose heart, and to wait in hope for the moment when God brings everything together and make things right.
Psalms 121 says –
I lift up my eyes to the mountains—
where does my help come from?
My help comes from the Lord,
the Maker of heaven and earth.
He will not let your foot slip—
he who watches over you will not slumber;
indeed, he who watches over Israel
will neither slumber nor sleep.
The Lord will keep you from all harm—
he will watch over your life;
the Lord will watch over your coming and going
both now and forevermore.
#2 ENGAGEMENT : HOW SHOULD THE CHURCH ENGAGE THE COMMUNITY?
The church looks at Esther as a positive example of a woman of God who by faith selflessly and courageously confronted a king in order to protect her people.
Sometimes the church goes further to say that Esther is a model for how Christians can engage the society and Government on a political front - that the church should be bold to confront the things that it sees are wrong in society, up to the point of civil disobedience. Civil disobedience means disobeying a law that is unjust. If you recall, the law in Esther's time said that no person can meet the king unless he invites that person to, and Esther defied that law by approaching the king to plead for the Jews without invitation.
I agree that Esther is a positive example of courage and selflessness. I kind of agree that Esther is an example of how politics was used to bring about a good outcome.
At the same time, I am troubled by a narrative that looks at only at the good parts of Esther while ignoring the bad.
What do I mean? When praising Esther's civil disobedience, we ignore the fact that Esther and Mordecai did not defy the unjust laws that took away young girls including Esther herself into the king's harem. While in the palace, Mordecai encouraged Esther to keep her Jewishness a secret, and she did. That means that Esther probably did not keep to the rituals and requirements of her faith like abstaining from unclean food and praying daily.
In contrast, when Daniel was brought to live in the palace as an advisor, the Bible records that he refused to eat unclean food, refused to worship idols, and prayed openly even though his enemies would see this and report him to the king. For this defiance, Daniel was thrown into the lion's den.
But no one preaches about how Esther sets a good example for Christians should keep their faith a secret, because she wasn't a good example in that sense.
Why do I bring this up? Like everyone else, Christians like to look more at the good bits about ourselves, rather than the bad. This gave the Pharisees in Jesus' time the false assurance that they were good people, but Jesus called them hypocrites. This can also give us a false assurance that we're good people.
Let us always remember that we are in church not because we are a good people, but because we need of God to make us good. If we want to make a positive impact on society, we cannot just think good things about ourselves, while ignoring the bad. These double standards will become a stumbling block because everyone else can see our faults. If we want to make a positive impact on society, I believe we must speak from the humility of being aware that we are no better than a person outside the church, the only difference being our awareness of a need for God.
Another part I find troubling about Esther is the very brutal ending. As you know, the king first issued a law allowing people to kill the Jews. Under Persian law, a law that has been issued by the king cannot be changed. So, at Esther's request, the king gave the Jews permission to protect themselves. Esther records that 500 people in the capital were killed by the Jews in self-defense.
But one day is not enough for Esther! Esther asks the king for permission for the Jews to attack their enemies for another day, and 75,000 people are killed. Wow. 75,000. Was that necessary? The pastor Frederick Buechner observed that perhaps Esther does not contain any reference to God, because God did not approve of the ending, and does not want to be associated with it.
That is a very disturbing thought – that even if we are right about something, God might not approve of what we do.
We live at a time – partly because of how accessible the Internet is nowadays – when Christians and churches believe that they have to engage the Government and society more actively on political slash moral slash ethical issues. So whenever we see something we disagree with, like the Ashley Madison website that promotes adultery, a petition will quickly be circulated on the Internet to protest against it. Or you will see critical comments posted on websites about how this is wrong.
I agree that the church should take an active interest in important political slash moral slash ethical issues of our day. Because if we rely on a secular perspective alone, we may arrive at very questionable conclusions on say, research on humans or genetic manipulation. In fact that is one of the ways that Ashley Madison markets itself – through the perverse logic of saying that if couples are allowed to be unfaithful to each other, the relationship will last longer.
However, political engagement has a way of bringing out the worst in humans, and Christians are humans. It makes people arrogant about their beliefs and blind to their own faults. How Christians tend to ignore Esther's faults and see only her positive qualities, may also be how many of us conduct ourselves. This undermines the good that we want to accomplish, because it makes us hypocrites.
Political engagement, coupled with the Internet, also has a terrible way of encouraging people to say the rudest, nastiest, most hurtful, and also sometimes false, things about people we disagree with. Just like how the Jews in Esther's time got carried away with taking revenge on their enemies, Christians can get carried away when debating with people around us.
The warning is Esther is this – if God disassociated Himself from Esther, God can also disassociate Himself from our actions. That is to say, even if the church is right about something, God might not be proud of what we did about it.
So how should Christians engage society? There isn't time today to go through this question in detail and in any case I will not presume to know all the answers. But let me leave you with two verses from the Bible that I think are particularly relevant in this day and age -
"Consider what a great forest is set on fire by a small spark. The tongue is also a fire, a world of evil among the parts of the body. It corrupts the whole person, sets the whole course of his life on fire, and is itself set on fire by hell." (James 3 : 5 – 6)
"Let your conversation always be full of grace, seasoned with salt, so that you may know how to answer everyone." (Colossians 4 : 6)
#3 COMPLETENESS : WHY OUR PERSPECTIVE AND ENGAGEMENT IS INCOMPLETE WITHOUT CHRIST
As I mentioned before, to someone outside the church, Esther reads just like an exciting political drama without any religion involved. And to be honest, that is what it could have been. Esther could have ended in two possible ways –
The problem with either ending is this – the actual ending was needlessly violent and brutal, and does not have God's approval. The alternate ending would make you question why God was missing. Is God real? Does He care? Why didn't God do anything? And in history, there have been many instances in which God did not intervene supernaturally to save believers from persecution, suffering and death.
How do we reconcile the two possible endings? In one ending, Haman looks at the gallows and sees Mordecai hanging there. In another ending, Mordecai looks at the gallows, and sees Haman hanging there.
But we look at the gallows today, and see Jesus hanging there. Jesus reconciles both possible endings by His death and resurrection on the cross. What do I mean?
Without the hope of a resurrection in Christ, a bad ending in which Esther fails, Mordecai is hung, and the Jews are killed, would be nothing more than a bad ending. There would be no hope beyond the current lifetime, and all the struggle and sacrifice would be meaningless.
But the promise of a life with Jesus Christ after this lifetime, allows Christians to look beyond the here and now.
"If only for this life we have hope in Christ, we are to be pitied more than all men. But Christ has indeed been raised from the dead …" (1 Corinthians 15 : 19)
"My Father's house has many rooms; if that were not so, would I have told you that I am going there to prepare a place for you? And if I go and prepare a place for you, I will come back and take you to be with me that you also may be where I am." (John 14 : 2 - 3)
"These were all commended for their faith, yet none of them received what had been promised. God has planned something better for us so that only together with us would they be made perfect." (Hebrews 11 : 39 - 40)
What about the other ending where there is needless violence and brutality, the actual ending that God does not approve?
Jesus Christ has changed that by setting an example of what it means to engage the community. More important than engaging the world around us politically, more important than signing petitions, more important than debating people on the Internet or in the real world, is to get to know real people who are lost or hurting personally and genuinely, and speaking grace and truth in their lives through the overflow of God's love in our hearts.
That is why Jesus was sent. John 1 : 14 says -
"The Word became flesh and made His dwelling among us. We have seen His glory, the glory of the One and Only, who came from the Father, full of grace and truth."
The Bible records that God parted the Red Sea, guided the Israelites as a pillar of cloud and fire, and used miracles to warn people to turn away from sin. However, for most part, the life of a person was changed for good only when God dealt with that person personally.
And that is why Jesus was sent as a person. In the presence of God we would be overwhelmed by His power and His holiness – the Bible records that Moses had to hide behind a rock when the glory of God passed by, because no one may see God and live. Lesser persons like us either wouldn't even dare to approach God, or would obey God for a little while out of fear.
However, with Jesus, we are not overwhelmed with God's power or holiness, but with the intimacy of a personal relationship, with the grace and love and truth of God.
Let me close what I have to share about political engagement by revisiting the topic of abortion.
There is a famous US Supreme Court case in 1973 known as Roe vs Wade. The decision of the court in that case changed the course of abortion laws in the United States, I would say forever. Before Roe vs Wade, abortion was illegal under any circumstances. After Roe vs Wade, abortion at any time became legal, and a mother could undergo an abortion whenever she wanted to.
A key figure in this case is Jane Roe (the "Roe" in Roe vs Wade), whose actual name is Norma McCorvey. McCorvey signed the court papers necessary for the lawyers to file a legal case. McCorvey later became a pro-choice (which means pro-abortion) supporter, and worked in an abortion clinic. For the longest time McCorvey would detest Christians, because they treated her like an enemy would call her names like "baby-killer".
However, Philip Yancey writes that McCorvey softened when she came into contact with the director of Operation Rescue, an anti-abortion organization. Although the director was initially hostile to her, "he stopped treating her like an antagonist and treated her like a person. He apologized publicly for calling her "baby-killer" and started spending time with her during her smoking breaks … McCorvey later accepted an invitation to church", baptized a Christian, and became a vocal pro-life (ie. anti-abortion) supporter.
CNN reported that -
That's interesting isn't it? Between 1973 to 1995, which is more than 20 years, all the protests and demonstrations, all the name-calling, and all the insults, by anti-abortionists and churches failed to change McCorvey, who remained a hardcore supporter of abortion. But an unlikely friendship between a pastor and McCorvey melted her heart, and changed it all. This unlikely friendship exemplifies the love, grace and truth of Christ that was previously missing in all the efforts to change the views of pro-abortionists.

This is the third and most important lesson we can draw from Esther – that that Esther is unsatisfactory and incomplete because the absence of Christ. In the same way, our perspective and engagement of the secular world as Christians will be incomplete without Christ. To make sense of the secular world around us, and to meaningfully engage it, we must never lose sight of Jesus Christ. More important than engaging the world around us politically or in debates, is the personableness, and the love, and grace, and truth, that Jesus Christ demonstrated, that must guide everything that we do.

Warning: mktime(): It is not safe to rely on the system's timezone settings. You are *required* to use the date.timezone setting or the date_default_timezone_set() function. In case you used any of those methods and you are still getting this warning, you most likely misspelled the timezone identifier. We selected 'Asia/Singapore' for 'SGT/8.0/no DST' instead in /var/www/vhosts/musings.per.sg/httpdocs/wp-includes/functions.php on line 19 Warning: date(): It is not safe to rely on the system's timezone settings. You are *required* to use the date.timezone setting or the date_default_timezone_set() function. In case you used any of those methods and you are still getting this warning, you most likely misspelled the timezone identifier. We selected 'Asia/Singapore' for 'SGT/8.0/no DST' instead in /var/www/vhosts/musings.per.sg/httpdocs/wp-includes/functions.php on line 28 Warning: date(): It is not safe to rely on the system's timezone settings. You are *required* to use the date.timezone setting or the date_default_timezone_set() function. In case you used any of those methods and you are still getting this warning, you most likely misspelled the timezone identifier. We selected 'Asia/Singapore' for 'SGT/8.0/no DST' instead in /var/www/vhosts/musings.per.sg/httpdocs/wp-includes/functions.php on line 30 Warning: date(): It is not safe to rely on the system's timezone settings. You are *required* to use the date.timezone setting or the date_default_timezone_set() function. In case you used any of those methods and you are still getting this warning, you most likely misspelled the timezone identifier. We selected 'Asia/Singapore' for 'SGT/8.0/no DST' instead in /var/www/vhosts/musings.per.sg/httpdocs/wp-includes/functions.php on line 32 Warning: date(): It is not safe to rely on the system's timezone settings. You are *required* to use the date.timezone setting or the date_default_timezone_set() function. In case you used any of those methods and you are still getting this warning, you most likely misspelled the timezone identifier. We selected 'Asia/Singapore' for 'SGT/8.0/no DST' instead in /var/www/vhosts/musings.per.sg/httpdocs/wp-includes/functions.php on line 33 Warning: mktime(): It is not safe to rely on the system's timezone settings. You are *required* to use the date.timezone setting or the date_default_timezone_set() function. In case you used any of those methods and you are still getting this warning, you most likely misspelled the timezone identifier. We selected 'Asia/Singapore' for 'SGT/8.0/no DST' instead in /var/www/vhosts/musings.per.sg/httpdocs/wp-includes/functions.php on line 19 Warning: date(): It is not safe to rely on the system's timezone settings. You are *required* to use the date.timezone setting or the date_default_timezone_set() function. In case you used any of those methods and you are still getting this warning, you most likely misspelled the timezone identifier. We selected 'Asia/Singapore' for 'SGT/8.0/no DST' instead in /var/www/vhosts/musings.per.sg/httpdocs/wp-includes/functions.php on line 28 Warning: date(): It is not safe to rely on the system's timezone settings. You are *required* to use the date.timezone setting or the date_default_timezone_set() function. In case you used any of those methods and you are still getting this warning, you most likely misspelled the timezone identifier. We selected 'Asia/Singapore' for 'SGT/8.0/no DST' instead in /var/www/vhosts/musings.per.sg/httpdocs/wp-includes/functions.php on line 30 Warning: date(): It is not safe to rely on the system's timezone settings. You are *required* to use the date.timezone setting or the date_default_timezone_set() function. In case you used any of those methods and you are still getting this warning, you most likely misspelled the timezone identifier. We selected 'Asia/Singapore' for 'SGT/8.0/no DST' instead in /var/www/vhosts/musings.per.sg/httpdocs/wp-includes/functions.php on line 32 Warning: date(): It is not safe to rely on the system's timezone settings. You are *required* to use the date.timezone setting or the date_default_timezone_set() function. In case you used any of those methods and you are still getting this warning, you most likely misspelled the timezone identifier. We selected 'Asia/Singapore' for 'SGT/8.0/no DST' instead in /var/www/vhosts/musings.per.sg/httpdocs/wp-includes/functions.php on line 33